When it comes to Halloween Party Planning, it's all too easy to end up in a fake-blood and white-bedsheet rut. This is why you should pick an exciting theme for your event! The perfect theme will transform your event from average to unfortgettable.
You could take the conventional fright-night approach and add an extra scare, or pick 'n' mix it up with something a little sweeter! Big Foot Events can provide the perfect themed entertainment, venue dressing, props, and ideas to make your themed Halloween Event a spook-tacular night!
1. Twisted Fairy Tales
Don't be late planning this important date! Fall down the rabbit hole into the sinister side of Alice in Wonderland…
Transform your venue into an uncanny Wonderland with surreal, eccentric, and oversized props. Include themed catering with an 'Eat Me' Tea Party Buffet and Flair Bartenders dressed as playing cards mixing up 'Drink Me' cocktails.
Your guests can make an entrance with Meet and Greet Performers such as Clock Heads and Bouncy White Rabbit Stilts, and characters joining the crowd such as a Terrible Queen of Hearts or Delirious Mad Hatter.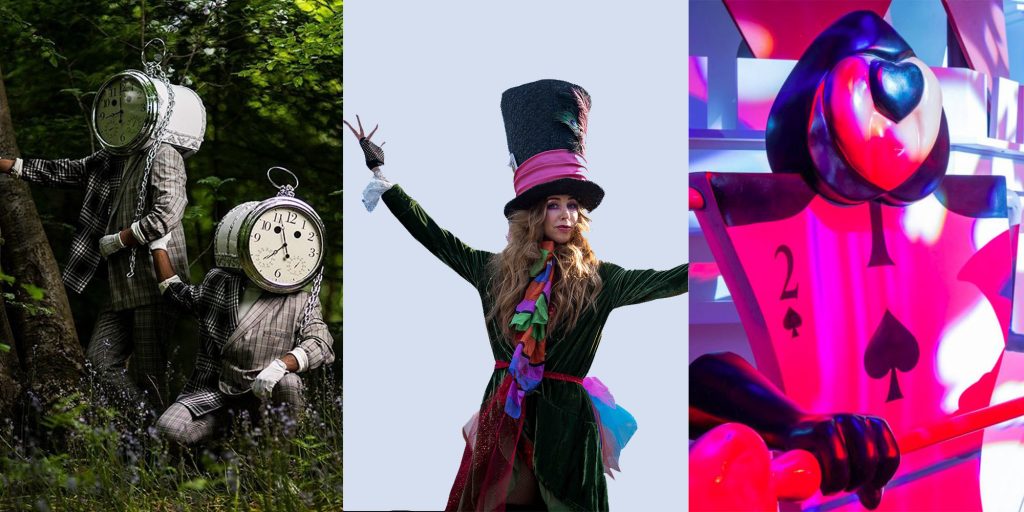 2. Freak Show
Roll up, roll up to the freakiest show in town. A Freak Show Themed Event embraces the scary side of Halloween – but that doesn't mean it has to be predictable.
Host your event inside a Circus Big Top Tent with themed Circus Props, Funfair Side Stalls, and Carnival Fun and Games. Create an immersive spectacle with a freaky Circus line-up of Contortionists and Aerial Performers, Meet and Greet Clown Stilt Walkers, mesmerising Illusionists, Fire Breathers, Meet-and-Freak Characters, and Carnival Oddities! Include a Fortune Teller table with Crystal Balls and Tarot Cards to add a mystical aura to your event.
Sit on the edge of your seat and enjoy the show!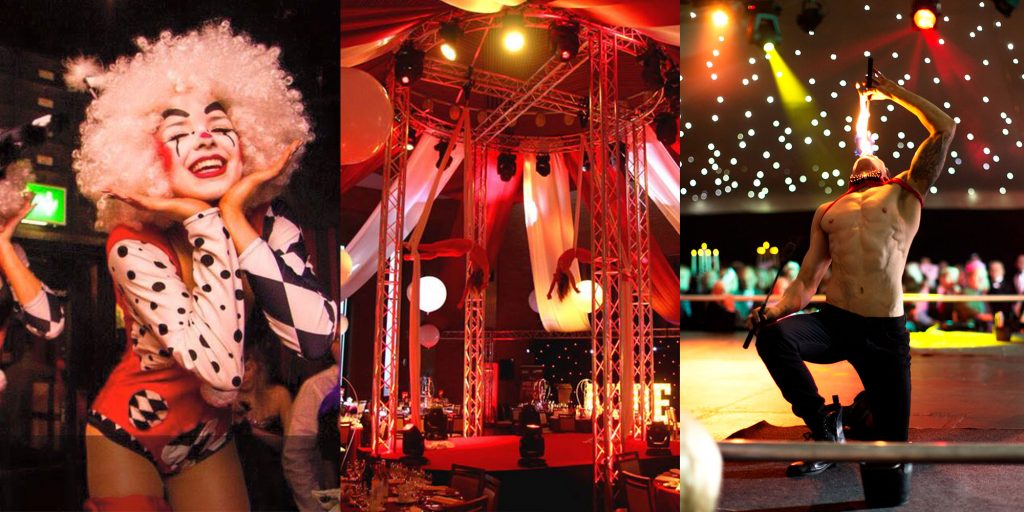 3. A Killer Menu
Trick or Treating is a quintessential part of modern Halloween celebrations – so why not host a Trick or Treat Themed Event?
We've got a trick up our sleeve with a Murder Mystery Dinner Party! Take themed catering to a whole new level and host a classy party with a deadly twist. With a variety of plots and themes for your Murder Mystery, be fully immersed in the scene with theatrical entertainment, character actors mingling with guests to solve the crime, an absolutely killer menu, and the opportunity to dress up for a 20s dinner in the Jazz Age or a Masquerade where you uncover the masked killer! Fancy dress is perfect for photo opportunities and will make your event unforgettable!
Or take the sweeter route with a Pick 'n' Mix theme with Candy Girl Canapé Hostesses, themed Sweetie Props, and a range of Treats from Themed Food Carts.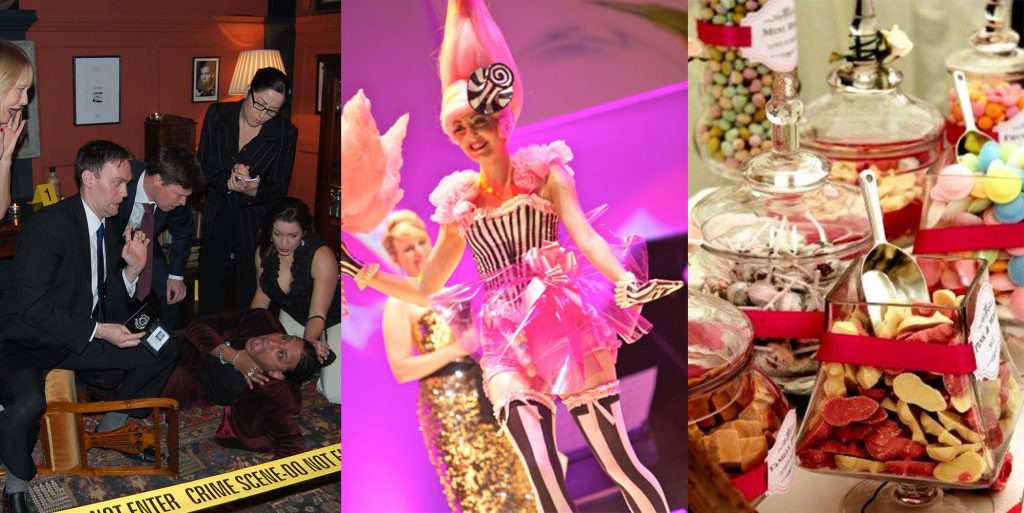 4. Enchanted Forest
If you go down to the woods today, you're sure of a big surprise! An Enchanted Forest theme can combine the eerie and the mystic all in one!
Mythical creatures can roam your venue such as the smoke-breathing, interactive walkabout Dragon, Dreygo, who can be accompanied by a Merlin-style Wizard or Mischievous Fairy Performer, or even Spyro the Baby Dragon!
Create a living forest with Themed Performers such as Forest Garden Stilt Walkers, Giant Tree Stilt Walkers, or an Enchanted Flower Globe.
For a spookier event, transform your Enchanted Forest into Harry Potter's 'Forbidden Forest' with eerie lighting and special effects, Magicians and Illusionists, Harry Potter Meet and Greet Lookalikes, and themed workshops such as Make a Spell Book, Potions Class, or Make a Wand.