It's the most wonderful time of the year, and it becomes even more magical when your wedding is happening during Christmastime! Christmas Weddings are often at the top of a bride-to-be's wish list – and rightly so! The stunning snowy scenery and backdrops, cosy log fires, and overall festive cheer is enough to warm the hearts of anyone in attendance.
Fulfill your Winter Wedding fantasy by hiring fabulous Christmas-themed Wedding Entertainment! Carol singers, string quartets, jazz ensembles, pianists, party bands, and many more of Big Foot Events' amazing artistes will perform Christmas-sy sets to make your special day especially festive!
So, without further ado, let's have a look at the key moments of your wedding day, and discover incredible Live Entertainment that will fill your guests with festive cheer!
The Arrival of your Guests
First impressions count, and there are many creative ways that you can bring some Christmas magic to your special day from the moment your guests arrive!
How about a beautiful choir ensemble, acoustic vocalist, or a sensational string quartet to serenade your guests? Choose from a pianist, violinist, saxophonist, and many more incredible musicians… and, since it's Christmas, we recommend our incredibly adaptable Snow Machines that will not only beautifully and elegantly decorate your entrance, but also delight guests when they arrive!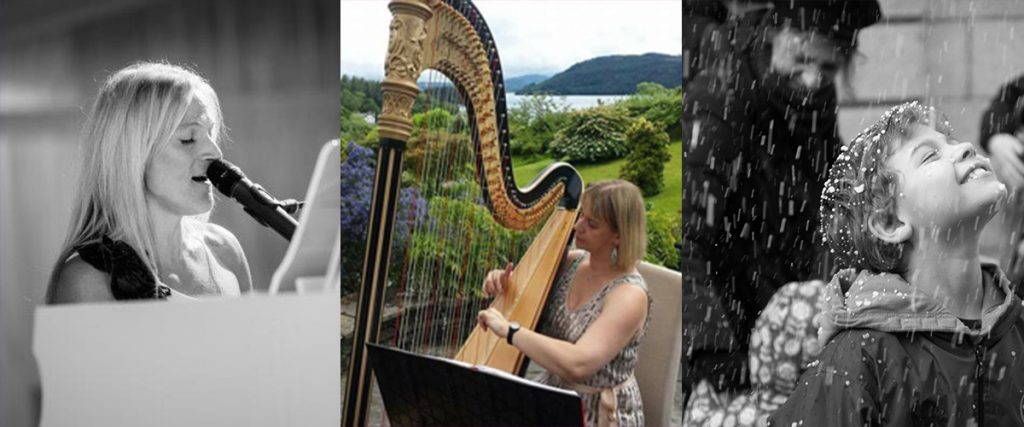 Your Wedding Ceremony
It's the most important part of any wedding: the moment where all of your family and friends watch in awe as you and your beloved tie the knot. As much as a wedding ceremony is beautiful, it can also be long, boring, and sleep-inducing. Everyone is going to remember this moment of your day – so it is critical that they remember it for the right reasons.
A traditional string quartet will bring grace and refinement to your ceremony, a harpist will add a touch of elegance, or a pianist will bring class and sophistication. If you want to make a statement, why not choose a gospel choir?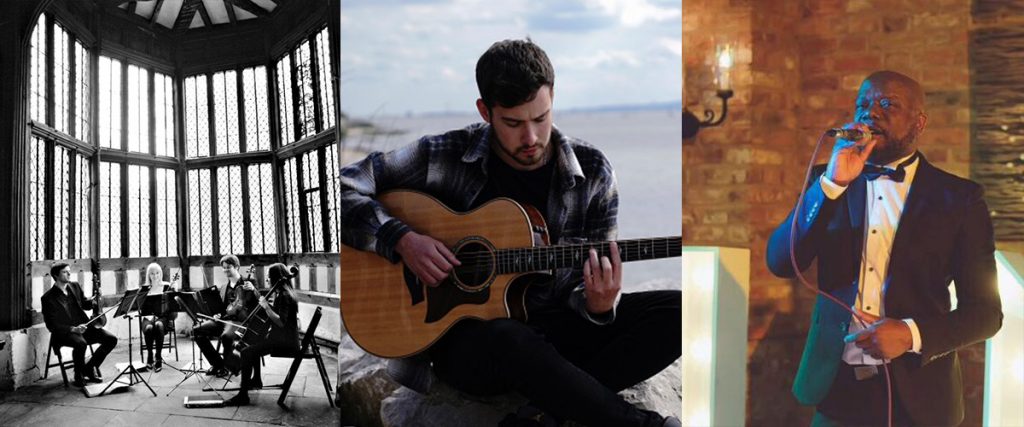 Your Drinks Reception
Whether your guests are enjoying mulled wine, champagne, or a warming hot chocolate, a little live entertainment is the perfect accompaniment as they chat and mingle. Whether you're looking for a Vintage Act, an Acoustic Guitar Duo, Saxophonist, or Jazz Singer, you'll find an act to wow the crowd!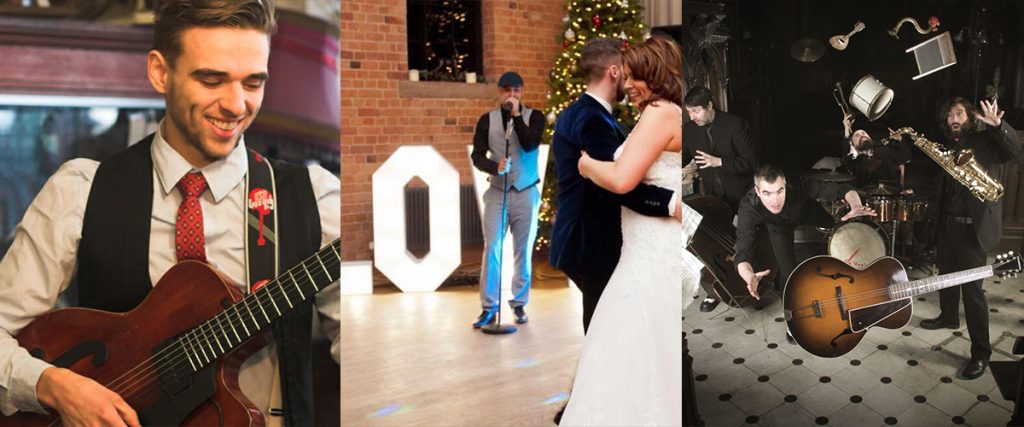 Before the Reception
It's the time of day that guests dread – the in-between. What's the in-between you ask? It's the dull part of the day that happens after the vows but before the after party. The time where guests are sat around waiting for food or for the bride and groom to arrive fashionably late to the wedding reception. Well, you can liven up the dull part of the day by hiring our fantastic live entertainment options!
Start with our incredible, weird, wacky but wonderful, meet and greet acts! We're talking Champagne Dress Hostesses, skilled Circus Performers, Fire Artists, Living Tables, and – since it's Christmas – our incredible Ice Queen!
Wanting something more relaxed? No problem. We have sensational Swing and Jazz Vocalists, Saxophonists, and even a Harpist for an elegant touch.
Don't forget to add a little fun and cheekiness to your day with talented Magicians or Caricaturists. Or include fun activities to keep your guests amused: crazy golf, photo booths, a Giant Snow Globe, or a Magic Mirror?
It's your special day, so make it one your guests will remember. Drown out the dull with a packed itinerary of delightful live entertainment.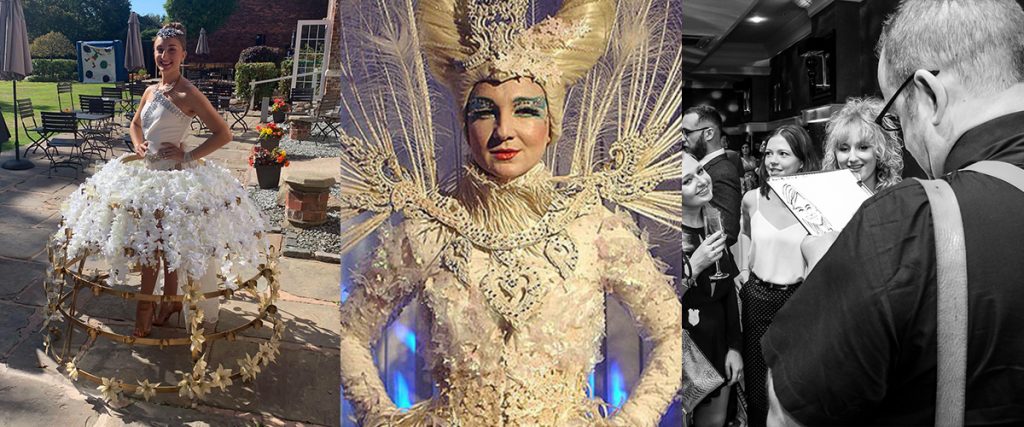 Your Wedding Reception
The day is over and the excitement fills into the night with your wedding reception. It's time for you to party the night away with all of your guests and celebrate finally being married. Celebrate with festive favourites performed by Swing, Jazz, Contemporary, Rock, Pop, and Soul Bands! You're spoilt for choice with the selection available at Big Foot Events.
Go all out and hire one of our Christmas Packages with full event theming and set-up. Choose from a traditional Christmas tale such as A Christmas Carol, a Winter Wonderland theme, or a unique Christmas Extravaganza. We have Christmas props, decor, and a Giant Snow Globe to bring your theme to life!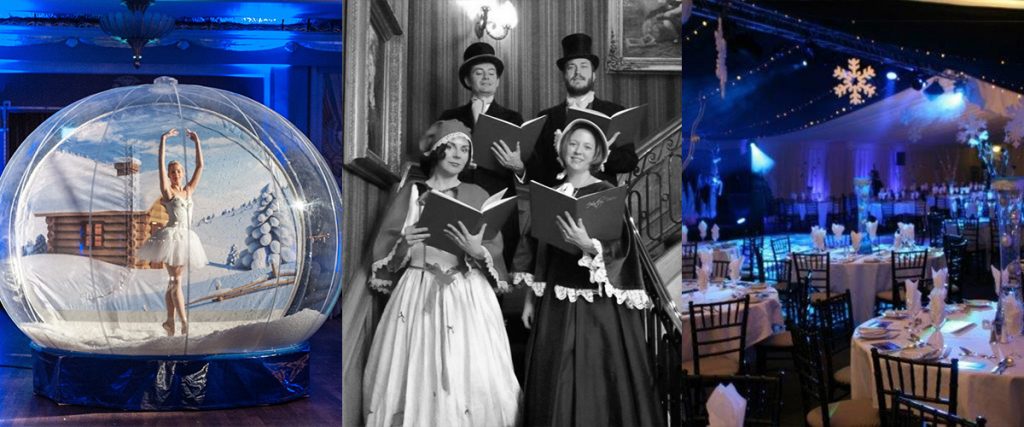 Start Planning your Christmas Wedding Entertainment Today!