We all know that the success of any business is down to the employees who work there. That's why it's important to keep everyone happy in the workplace! Engage your staff with incentive events and schemes throughout the year to keep them inspired and driven. It's arguably even more important during the Winter months…
The darker mornings, shorter days, and colder evenings are likely to make your employees feel a little more lethargic, tired, and unmotivated. Luckily, we have Christmas to help get through the cold, dark days!
Make the most of the merriest season and keep staff positive throughout December! One of the best ways to tap into the festive spirit is to throw a fabulously festive work Christmas party!
Not the creative type? Don't stress or panic. Christmas has come early for you as we gift you our expert knowledge in party planning – specifically Christmas party planning!
Here's our Ultimate Office Christmas Party Planning Guide!
1. Make a List and Check it Twice
Santa himself has expressed how important it is to make a list when Party Planning – and you don't want to end up on the naughty list! Write down what you want to get out of the party and how you plan to execute it. The main reason for throwing an Office Christmas Party is to celebrate the end of a very busy work year and to thank your employees for all their hard work, dedication, and positive attributes! You don't want to end the year with a dreary, boring party (bah humbug!). Making a list is crucial to making your Office Christmas Party – not only a success – but, so festively fun that even Scrooge in Accounts will want to attend!
2. Set a Date
Christmas and the end-of-year are a busy time for everyone, so it's a good idea to get a date set in the diary as soon as possible!
Will the party be held on a weekday or a weekend? This can be a deal-breaker for many. The idea of giving up their free time might not appeal to some, and they may consider a day out of the office as more of a treat! Why not consider a January Christmas Party? Venues have more availability and cheaper prices – and it's perfect for overcoming those January blues. Once a date has been decided, send out invitations to mistle-toast to the holiday season in style!
3. Decide on a Budget
The dreaded money talk. We hate to talk finances because, let's face it, how can you put a price on fun? Setting a budget is absolutely crucial because it will determine your options when it comes to which venues you can afford, what food and drink you can have, your theme, and what entertainment you will provide! So, before you start letting your mind run wild – pin a budget down! Luckily for you, we have sensational, unique, fully bespoke Christmas Party packages to suit any budget! Low cost doesn't mean low quality. You're a sleigh-in for a great night of fabulously festive entertainment, Christmas-sy decor, and props!
4. Choose a Theme
Deciding on a theme for your Office Christmas Party can be a really fun activity! It will make every other stage of the planning process easier. Once a theme is figured out, it will guide your decision regarding food, drink, decorations, props, and entertainment! A Christmas Masquerade Ball is an extravagant way to end the year! A Winter Wonderland theme is sure to incite a Festive feeling. A more traditional Christmas with an impressive Santa's Grotto will be a merry spectacle! Or, a modern, glitzy, glamorous Christmas do will jingle everyone's bells…
Big Foot Events' Team of specialist party planners can make wishes come true!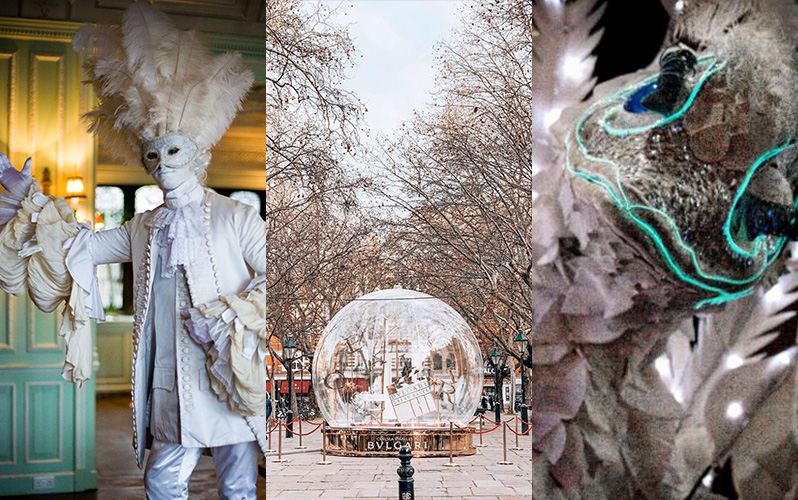 Don't believe us? Picture this: you're walking through a magical entrance way towards Santa's Grotto and witnessing your theme come to life! You wished you wrapped up warm because our state-of-the-art snow machine is making it flurry. You are truly immersed in all things Winter as you find your way through icy white drapes, giant icicles, ice statues, white frosted Christmas trees, and a snow storm! Find yourself inside a breathtaking Giant Snow Globe! You are thankful you chose to hire one of our spectacular aerial performers to put on a show! You've walked through the snow storm, taking a drink of champagne from an Ice Queen, and you have stepped into… Narnia? Mr Tumnus greets you as you enter a cosy log cabin for a mulled wine (or two!). Just as you thought the fun way over, UV Cannons, Dry Ice, and a twinkling LED dance floor await you!
So, whatever theme is on your wish list, get in touch today and make it comes to life.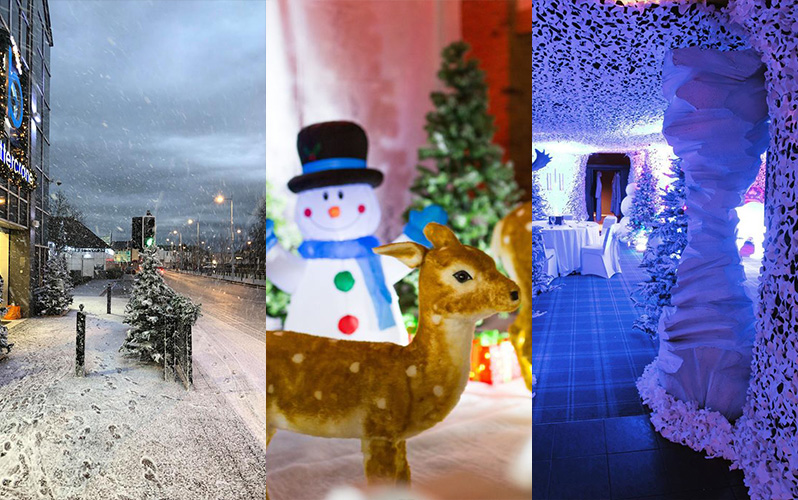 5. It's All About the Entertainment
Excuse us, Santa Claus. We're about to rock the sleigh and deliver the best live entertainment you've ever seen! Are you ready to Jingle Bell Rock? Well, it's Christmas! At Big Foot Events, we provide the UK's biggest and best entertainers and live music for all forms of festive parties. So, whether you are having a small office party – or a huge corporate function, we will be able to fill your stocking with fabulous entertainment! From choirs and singers performing carols to party bands playing Christmas number ones… we have the lot!
And the gifts just keep on coming in the form of Stilt Walking Bells and Snowmen, Christmas Tree Canapé Hostesses, Mulled Wine Food Carts, singing Santas, human Christmas Trees, Giant snow globes, and falling snow. We're sure your employees will appreciate some festive competitive fun and our Rodeo Reindeer is perfect for that. See who can stay on the longest!
It wouldn't be Christmas – or a party – without Christmas songs, and we've got a great variety of Live Bands, Tribute Acts, and Star Names to get everyone dancing the night away to some real Christmas crackers!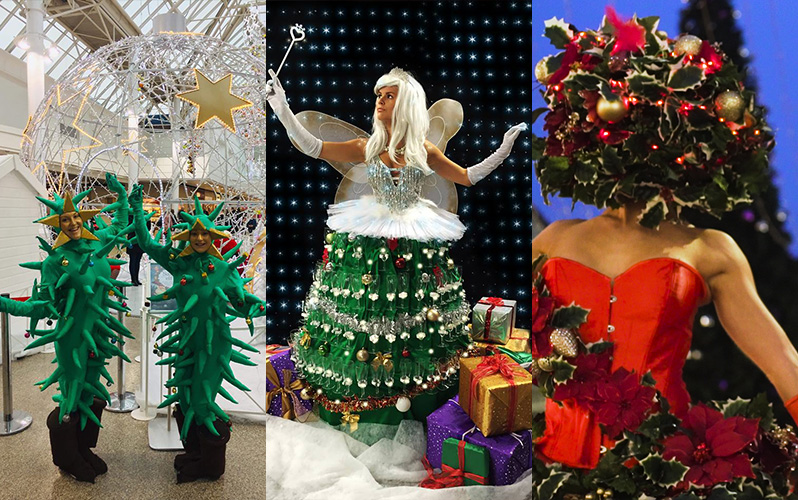 6. A Lasting Goodbye
The party may be over but that doesn't mean the fun has to be. End the evening on a high and give your employees a parting gift they will remember forever. Our state-of-the-art photo-booths allow anyone to become a photographer, creating images that capture the feel of the event and make memories to last a lifetime. We can even brand the photos with your company logo and instantly share them on social media – why not let everyone know how your company does Christmas best? Another unique option to consider for your upcoming office Christmas party is The Magic Selfie Mirror: a new take on the traditional photo booth by capturing selfies in a new, fun and interactive way!
And there you have it. 6 simple steps, as well as ideas, on how to organise a spectacular office Christmas party. Now, we've given you the know-how, and the resources to do it yourself but it can still seem daunting planning a party.
So, why not take all the stress away and let us do the work for you?