The Brief
Big Foot Events were honoured to create "A Beautiful Night" Themed Event at the JW Marriott Grosvenor House Hotel in London for Joymain Global Health & Beauty. Our client wanted to create a unique and memorable experience for their guests, as well as increase their brand awareness and showcase their strong company values. The event theme concept started with two theme ideas, Alice in Wonderland and Prince and Princesses, since we were catering for an international audience, the end result ended up being an amalgamation of the two, but also incorporating a variety of Fairytale characters and Royal Lookalikes!
The Challenges
For this conference event and Gala dinner to run smoothly and be successful, we had to make sure that we provided entertainment that everyone could relate to and engage with. The theming and props had to work within the hotel's restrictions as well as provide guests with an extravagant and never-seen-before experience.
Since the conference would include two full live production shows, it was important that all lighting and sound systems were timed exactly to create the desired effects on the day of the event. Despite these challenges, we knew that with our 15 years' experience in event planning and providing live entertainment to the events industry, we would be able to create an amazing event that would exceed all our client's expectations.
The Solutions
In order to overcome any issues on the day of the event, and to make sure we brought our clients vision to life, we arranged several site visits and meetings with both the venue and our client, which resulted in creating mood boards with clear pictures of theme décor, entertainment options, story-boards and site layouts, so that we maintained consistency throughout the event planning process.
We provided a variety of exciting meet & greet characters including The Mad Hatter, Alice in Wonderland, Stilt Walking Trees and fairies, as well as Royal Footmen, British Soldiers and Queen Elizabeth Lookalike. Not to mention Beauty and the Beast performers, Ballroom dancers and eleven Trumpeters. This array of entertainment was to incorporate all of the different event themes mentioned above, as well as create a cohesive party atmosphere.
The Results
A complete venue transformation was necessary in order to transform a five-star function room into something quite extraordinary. With beautifully placed blue, white and silver drapes and refined table dressing and chair covers situated in the centre of the room, alongside an impressive stage and dancefloor area, the venue oozed elegance and sophistication.
Incorporated into the venue décor was a mixture of Alice in Wonderland and Beauty and the Beast themed props including meet and greet characters from the iconic films, an incredible flower display, wisteria walkway and even a sparkling white carriage for photo opportunities.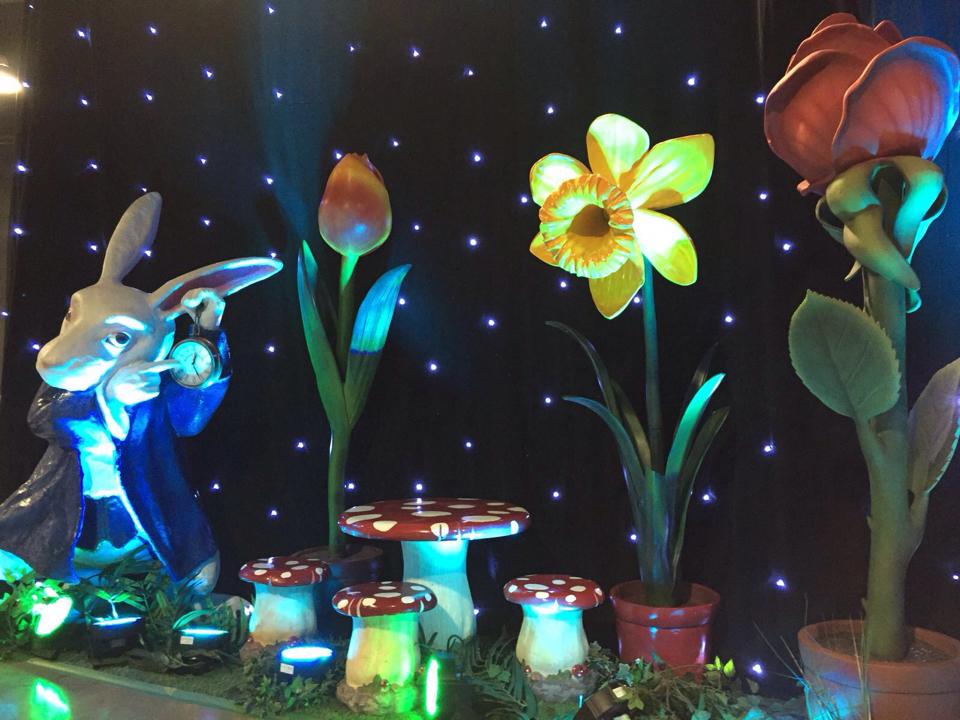 Before the evening entertainment and Gala Dinner, guests were shown to their seats by friendly hostesses and enjoyed a welcome ceremony featuring incredible live speakers, a spectacular dance troupe and a breath-taking String Quartet. To make it a Royal affair, our uncanny lookalikes consisted of British guards, Footmen and even the Queen!
Adding a WOW factor to the evening, and serving as incredible mid-dinner entertainment, were World Class Ballroom Dancers, Fanfare Trumpeters and the Rockabellas, a fabulous and incredibly British Vocal Harmony Group. After a delicious three course meal, guests had the pleasure of watching two sensational live production shows.
The first was a beautiful and captivating rendition of the classic film Beauty and the Beast featuring Mrs Potts, Lumiere, Chip, the Beast and of course Belle! The second was a lively, energetic, weirdly wonderful Alice in Wonderland live production show! Featuring iconic characters from the film including The Mad Hatter, White Rabbit and Alice Herself. Both live shows included a full lighting and sound display with lasers, LED lights and special effects.
We loved creating this unique, outside the box event for our client and we are glad we managed to exceed all of our client's expectations and give their guests a memorable experience.